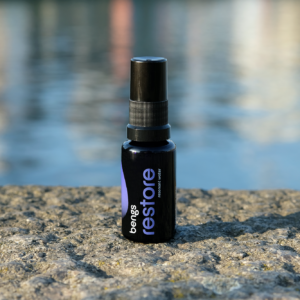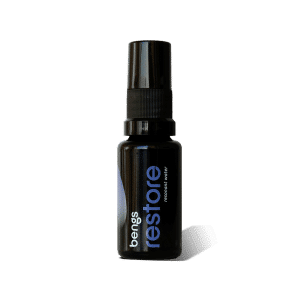 Bengs Restore
€24,95
Flesje van 15 ml (Voldoende voor één maand) 

Dosering: 4 maal daags 1 spray

onder de tong

Ingrediënten: water




Gratis verzending bij 3 of meer flesjes

in elke combinatie
Bengs Restore is voor de momenten van onbalans die we allemaal in het leven ervaren. Jouw lichaam is wijs en zoekt van nature informatie om zichzelf te herstellen en balans te hervinden.  
We kunnen niets zeggen over het effect dat Bengs Restore heeft op jou. Omdat het lichaam informatie gebruikt in overeenstemming met zijn wijsheid, kunnen we niet voorspellen wat jij zult ervaren. Mensen hebben allerlei positieve effecten gemeld. De enige manier om erachter te komen welk effect het voor jou heeft, is door het te proberen.
De wet biedt ons niet de mogelijkheid om op de website of verpakking aan te geven in welke situatie Bengs Restore Resonant water gebruikt kan worden.
Wil je hierover meer informatie? We helpen je graag!

Oh, en nieuwe gebruikers bieden we een geld-terug-garantie. Iets durven was nog nooit zo laagdrempelig…
Bestel meer, bespaar meer
| | |
| --- | --- |
| 1 of 2 | € 24,95 per flesje |
| 3 tot 6 | € 23,45 per flesje |
| 6 of meer | € 21,95 per flesje |
148 op voorraad
Abonneer je om te besparen
Elke maand een nieuw flesje Bengs Restore met korting. Annuleer of wijzig op elk moment. Abonnementen kunnen samen met losse producten gekocht worden.