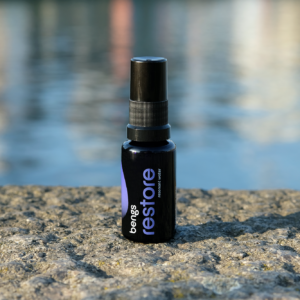 Bengs Restore (eng)
€24,95
15 ml bottle (Enough for one month) 
Dosage: 1 spray 4 times a day

 

Ingredients: water

 

Free shipping with 4 or more bottles in any combination
Bengs Restore is for the moments of imbalance we all experience in life. Your body is wise and naturally seeks information to repair itself and feel well. 
We can't say what effect Bengs Restore will have on you. Because the body uses information in the water in accordance with its wisdom, we can't predict what you will experience. People have reported all kinds of positive effects. The only way to find out the effect it will have on you, is to try it. 
The law does not allow us to indicate on the website or packaging in which situation Bengs Restore Resonant water can be used.
Would you like more information about this? We are happy to help you!

Oh, and we offer new users a money-back guarantee. Daring to do something new has never been so accessible… 
Order more, save more
| | |
| --- | --- |
| 1 or 2 | € 24,95 per bottle |
| 3 to 6 | €23,45 per bottle |
| 6 or more | € 21,95 per bottle |
Subscribe to save
A new bottle of Bengs Restore every month with a discount. Cancel or change at any time. Subscriptions can be purchased together with individual products.
"Mijn ervaring met Bengs Restore is dat ik meteen resultaten had. In mijn geval veel langer en dieper slapen dan anders. Direct na het innemen voelde ik het prikken onder mijn tong, alsof het champagnebubbels waren. Ik was de dagen erna wel opvallend vergeetachtig. Maar ik zag dat als onderdeel van weer "in evenwicht" komen."
"De anti-virale druppels hielpen me om te herstellen van COVID met langdurige koorts. Ik gebruik de druppels nu telkens als ik een verkoudheid voel opkomen."
"De Perform gebruikt tijdens een weekend in oktober dat ik de zaterdag 100+km fietste en de zondag de halve marathon liep. Gezien mijn conditie op dat moment had ik een mindere prestatie op de marathon verwacht. Echter liep ik een stuk beter dan verwacht."
Lex Houweling
Bengs Perform
"Toen ik Corona had, kreeg ik een PCR TEST en de CT-waarde was 18, en toen begon ik met de Bengs Recover druppels en 48 uur later was de CT 26. Dat was in november... Ongeveer 10 dagen geleden kreeg ik plotseling koortsblaasjes in de mond en daarna had ik een gezwollen klier in mijn keel, dus nam ik de Recover druppels (ik had vorig jaar hetzelfde probleem gehad), deze keer nam ik de druppels eerder, dus na 2-3 dagen was alles weg. Misschien kwam het door het Epstein Barr Virus dat in mijn lichaam sluimert (vorig jaar ontdekte de dokter dat bij een medische test) dus denk ik daar gewoon niet aan en nu is het weg. Dus misschien helpen de druppels ook tegen Epstein Barr???"
Karin Eberman
Bengs Recover
"Vrij typische trainingsweek, tot vandaag. Ik heb 18 kg aan mijn Bench Press toegevoegd omdat de aanhoudende pijn, die ik de afgelopen 6 maanden in de rechterschouder heb gehad, vrijwel verdwenen is! Er is GEEN MANIER om te faken dat je 18 kg extra kunt bankdrukken voor 3 sets van 8 herhalingen. Mijn bankdrukken ging van 105 x bankdrukken eergisteren naar 145 x bankdrukken vanmorgen!! Ik heb vandaag een aanzienlijke hoeveelheid gewicht toegevoegd aan al mijn oefeningen. Kanttekening: het kraken in mijn enkels was verdwenen toen ik wakker werd (enkels kraken meestal ongeveer 3 minuten als ik wakker word, maar vanmorgen niet.)"
John Brosius
Bengs Perform